Technology
Our Web Console allows you to: Enjoy easy access to send, review, and change orders, as well as run velocity reports.
View and edit orders.
Print velocity reports.
View online invoice history.
Order while on line.
View upcoming promotions.
View upcoming price changes.
Block stores from ordering unauthorized brands of cigarettes.
View online statement of account.
"Efficiency and accuracy through innovative technology set us apart from our competition."

— Billy Jones, Managing Director of Purchasing and Technology
Cipher Unit:
Place orders easily with this device. You may scan shelf tags, product UPC codes, or a scan book. To send your order, simply place the unit in a modem cradle and press send. The order is uploaded into ADC's system and cleared from the unit, providing a confirmation number of the transmitted order. With each communication, the Cipher unit is updated with new items and suggested retails.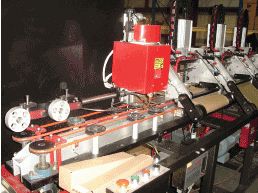 Warehouse Order Processing:
A computerized scanning device attached to the employee's finger is used for pulling and placing products into totes. Totes, cigarette bundles, and cases are counted when loading the truck. They are counted again as they are delivered to each store. The accuracy rate is 100 percent.